2002 the Moffitt cancer centre used High Intensity UltraSound to totally cure cancer. It works for all 200 cancers out there – cancer was cured 16 years ago.
I have found 1 minute of 8W 1MHz ultrasound is effective High Intensity UltraSound – applied from a medically licensed ultrasound massage device.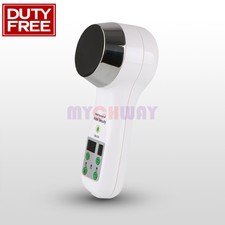 £23.99

+ £5.99 postage
Cure your cancers at home. ½ a minute to each side of the chest, throat, nose and 20 seconds to each side of your lower torso clears all infections. ½ a minute to each side of the cheast even clears HIV. And this eradicated Zita from the Earth.
It stops all cancers, heart disease, diabetes and mental health problems. So the drug companies bribed the regulator (AMA/GMC) to allow Hippocratic oath Dr.s still to prescribe defective cancer drugs, radio therapy and surgery.
All now criminal medicine. The dr is struck o0ff, and lost health insurance 16 years ago. Makibng medical practice criminal. And all prescriptions invalid: no pharmacist can fill the prescription for biochemical treatments or chemo therapy – or the pharmacist and assisting nurses struck off for life.
But the drug companies also bribed the politicians. Theresa May relied on the General Medical Council – but they were bought men.
Jeremy Corbyn received a cheque personally. In the last 15 years cancer drugs have murdered 1 in 8 of the UK population. That must have been one large cheque Jeremy. 15 UK pounds per life – that is how much Jeremy values us at.
Jeremy Corbyn turns out to be the most corrupt politician in UK history: or amazingly stupid. Bribed or stupid – or both.
Political corruption - nothing new.