2002 it was medically proved that High Intensity UltraSound cured all 200 cancers out there. No work or prescription of biochemical treatments for cancer was any more legal.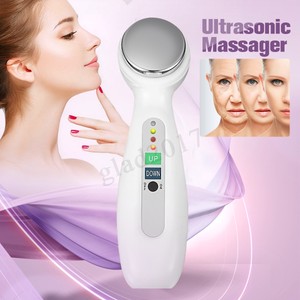 £16.05
Buy it now

Free P&P
View details
Frequency: 1mhz. 1 x Ultrasonic Body Massager. Two output options availlable (continuous waves and pulse waves). 1 x AC Adaptor. Skin cells, reduce wrinkles, tender skin, bright color. Removing wrinkl...
Any Dr. Researching biochemistry and cancer, or ceased to be a registered Dr.. Lost Health Insurance - so continued medical practice criminal.
The vast majority of medical work was based around cancer. Or worse than 80% of Health Service income vanished overnight. 16 years ago.
Drug companies continued with cancer drug manufacture. Though or will biology signatures to the Hippocratic oath. Any cancer drugs were no criminal medicine.
They struck back, that the new big killer of mankind was heart disease. 2012 medics published q 20 per cent double blind trial on HIUS to the top left to the chest and both kidneys clearing coronary heart disease.
Through my church heart health group, I can found the 8 W 1 MHz ultrasound massage device above, was the cheapest effective HIUS device out there.
1 minute to clear all cancers: but doctors were still busy prescribing biochemistry for cancer, and seeing their patients die in predictable agony within two years. How HIUS cures in one session of 1 minute.
No heart disease is also cured. Drug company is worked very hard to keep that out of the news.
Makes no predicted diabetes would be that the killer of mankind. HIUS for 1 minute to the lower right of the chest clears type one diabetes. Type two only ½ minute. No diabetes drugs legal for five years. Since this is personally validated at saint Thomas's heart health group 2013.
After a four year gestation, medicine and decided mental health problems were next big medical hope. They continued still prescribing drugs the cancers, heart disease and diabetes.
They're they're all defective and criminal medicine. No research work all drug prescription has been legal, going back to 2002 for cancers. Today doctors are still prescribing cancer drugs, radio therapy or surgery. Or criminal medicine for 16 years.
½ minute of HIUS to each side ahead clears MS, Alzheimer's, Parkinson's, schizophrenia and depression. All medically published 2013: there are schizophrenia was done the previous year.
So no biochemical treatments for Alzheimer's of legal. Yes there medics have suddenly announced they had developed a vaccination to stop Alzheimer's.
How likely is that? For a disease they can't even cure. Don't even understand what causes it. And is now totally clears by a single application of HIUS.
Medicine published five years ago. Since when no Dr. Has been allowed to research the disease. There totally cleared. So all work on a vaccine had to stop 2013. The five years later medics are talking about an effective vaccination being developed in the next decade.
Now it won't. Alzheimer's is totally cleared 2013. Prescription of mental health drugs has been criminal medicine for five years. Each patient death warrants a fine of 10,000,000 UK pounds. Each involved Dr. gets 25 years in jail.
There will never be a vaccination for Alzheimer's. As the disease is know totally cleared.
HIUS for ½ minute to each side the chest, throat and nose plus 20 seconds each side of your lower torso clears all viral and bacterial infections. Stopping all the diseases of age.
HIUS for ½ minute to each side the chest totally clears AIDs. Medicine proved an published 2012. No eight drug prescription has been legal medicine for six years.
Patients get cured, using the HIUS device every Dr. on earth bought to confirm they are cancer cures 2012. Lying unused in the nursing office. Cure all cancers, heart disease, diabetes, mental health problems, infections and aids on demand.
Buy and use your own device. No Dr. or hospital involved.