at home. No Dr., Nurse or hospital involved. No drug use required. At the end of the 20th century the largest companies on earth where the biochemical drug firms. So they have bribed doctors to still prescribe there defective and criminal cancer drugs.
They are paid to keep this news out of the press. I suggested the idea from my PH D. Sheffield University 2001 and the next year three medical professors in Florida air published the use of high intensity ultrasound to totally clear cancer at one session.
Drug company is have fought hard though you should never hear about this new medicine. As it makes exist in biochemical treatments, chemo and radio therapy or even the even more defective cancer surgery criminal medicine.
Ultrasound—Cancer Cure: Cheap Home Cure to All Cancers
Price:
£13.32

(excl. VAT)
Prints in 3-5 business days
Ultrasound—Cancer Cure explores a perspective and revolutionary new treatment for cancer: high-intensity ultrasound, a noninvasive but promising new treatment that is being studied as a way to treat all cancers and could even cure in just one application. Author Dr. Jon Thomason shares research from the Moffitt Cancer Center, which pioneered research into this application of ultrasound, and he explains both how ultrasound works and how, more importantly, it can be used to as a treatment for cancer. Chemotherapy and surgery are not the only options for patients suffering from cancer. Ultrasound is a promising new alternative that could offer a noninvasive treatment without the debilitating side-effects of radiation and surgery.
No registered Dr. Could have prescribed for the last 16 years without the same day strike in themselves off the medical register for life. And handing them cells and their notes into the police for criminal prosecution. Automatic multi life jail sentences would have resulted.
2010 I was appalled that this new medicine had not been utilised. There every registered Dr. On earth had a bed to use new medical advances, or same day strike themselves off and never practiced medicine ever again.
Or drug company is of one tree signatures to the Hippocratic oath. So verified HIUS 2002. Manufacture and sale of or cancer drugs became criminal 2002. Or manufacturing drug companies permanently excluded from medicine June 2002.
It does not require any Dr. or medicine. You can purchase an 8 W 1 MHz ultrasound massage device over the Internet.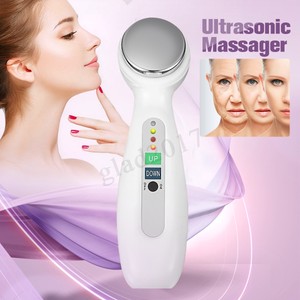 £16.05
Buy it now

Free P&P
View details
Frequency: 1mhz. 1 x Ultrasonic Body Massager. Two output options availlable (continuous waves and pulse waves). 1 x AC Adaptor. Skin cells, reduce wrinkles, tender skin, bright color. Removing wrinkl...
Just 1 minute of external HIUS to where it hurts, will even clear lake stayed inoperable liver cancer in 1 minute. I also give 1 minute to the secondary and liver plus ½ minute to each armpit and side of the head.
Probably not necessary. But once you have the device it is basically free to use. Clear all 200 cancers out there for 0.2¢.
1 minute to the bottom right of the chest clears diabetes: the stop as you feel warming. As with cancers. This makes all cancer drugs criminal medicine. Any Dr. Who has prescribed them in last 16 years, no longer a registered Dr..
All medical practice then criminal. Patients get return of all medical fees since 2002. Four all medicine. Every Dr. on earth personally validated HIUS 2002. They continued prescribing cancer drugs in their hope people would never learn about HIUS.
If you're short the cash, get my e-book! It may save your life.
HIUS for ½ minute to each side of the head clears MS, Alzheimer's, Parkinson's, schizophrenia and depression.
So all cancers can be cleared at home, with 1 minute of HIUS. From a medically licensed ultrasound massage device. That is not hard medicine.
All cancer drugs have been criminal medicine since 2002. In all probbiggest homicide in history. World war two killed 60,000,000. Doctors have medicated 100 million patients to death in eight years.
All NHS doctors ceased to be registered doctors June 2002. Every Dr. Induced ability, your GP has not been a registered Dr. for 16 years. Same with hospital doctors.
Every medical academic on the planet ceased to be a registered Dr. June 2002. This invalidated their conditions of service. Teaching medicine then became a criminal activity! Even at Harvard and Cambridge universities.
This science was devised at Sheffield University. Who ended my PhD studies, embarrassed that curing cancer was so easy. Since 2001 medics have medicated eight million British people to death. One in eight of the UK population.
No British newspaper has carriers any copy, had the medical murder warrants a fine of 10 million UK pounds. And 25 years in jail.
Such mass murderers are obviously removed from medical practice 2002. Why are they still sat at their deaths, medicating patients to death? For over 100,000 UK pounds a year.
Consoles was up to our quarter of million. This one goes off to Matt Hancock, the ukcc minister for health. The drug companies paying him to do nothing. Surprise me Matt and end the biggest homicide in history.