2002 3 medical professors from the Moffitt world cancer centre, published the use of High Intensity UltraSound to totally clear cancer at 1 session. I have found 8W 1MHz ultrasound t iobe 100% effective High Intensity UltraSound. From a medically licensed massage device.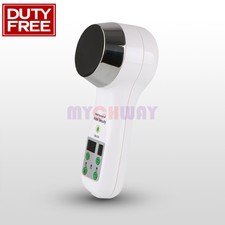 The 3 professors at the Christie HAS to validate this work or cease to be Dr.s. And carried right on with defective cancers drugs, radio therapy plus surgery. The Hippocratic oath instructs all Dr.s t osrike themselves off, when they first used defective medicine.
2016 some paretns look a little girl away to get High Intensity UltraSound in the US – adbn get totally better. No 2 year decline to inevitable death.
So the Christie then bought some High Intensity Focused Ultrasound gear. Massively more expensive lit. tjhat needs two full time workers to employ.
An effective hIUS kit costs only $50. So High Intensity Focused Ultrasound kit is medically defective technology – no Dr can use.
But the Christie was dependant on US patients – and without effective CANCER CURE EQUIPMEWNT they would all stay home and get cured. Again, High Intensity Focused Ultrasound is defective compared to High Intensity UltraSound – and is massively dearer.
People can buy their own High Intensity UltraSound kit, and cure their own cancer at home. High Intensity UltraSound for ½ a minute to each side of the chest clears leukaemia and HIV. AIDs has been cured.
So for 16 years the Christie has knowingly applied defective medicine to cancer patients. Killing half of them – for money. So, so criminal. Each death sentances every Dr involved to 25 years in prison, and a fine of 10 million.
Open and closed justice: it is the pledge of every Dr as they enter medical practice. The Christie and Nuffield arfe no alone.
Every cancer Dr around the world has profited from killing their cancer patients for money. When they had effective High Intensity UltraSound gear – used to validate the medicine.
Every nursing office at the Christie has an 8W 3MHz ultrasound device – effective HIUS. So every family member of a cancer patietn killed by the Christie (also heart disease and diabetes) gets 10 million. And the Dr is struck off – back dated 16 years. Return all wages, get no pension, and die in jail.
Incidentally, I published the use of ½ a minute's High Intensity UltraSound to each side of the head as a CURE for MS, Alzheimer's, Parkinson's and Schizophrenia 2013: confirmed by every registered Dr the sdame year.
No Dr is thus allowed to research defective biochemical treatmetns for demintia. Todaty they published the use of a diabetics drug to cure Alzheimer's. One a disease of the pancreas, one of the brain.
As people are applying 1 minute of High Intensity UltraSound to the bottom right of the rib xcage to clear diabetes – and diabetes drugs are tanking. No medic can prescribe them, or research them. So who did the work here? Obviously not a registered Dr..
So the families of all cancer patients who have been murdered using defective cancer drugs, get $16 million – and the Dr is struck off for life – along with the hospital and drug firm.
The 3 medical professors from manchester University were struck off 16 years ago.
Ultrasound - cancer cure
Paperback:
List Price:

£8.72
£7.41
(excl. VAT)
|
You Save: 15%
Prints in 3-5 business days
Highly intensity ultrasound 150 W 40 kHz applied externally just once will cure all the diseases of age!