All my life, doctors have always said stuff like 'If only we could CURE diabetes, but until then I'll prescribe drugs'. Doctors knew that a viral type cell caused type 1&2 diabetes. And realised the specific antibody would cure diabetes – but wanted the income. From what had become the 8th biggest killer of mankind out there.
Then in 2013, I was walking around with an ultrasound massage device – that was a medically licensed High Intensity UltraSound device: 8W 1mhz.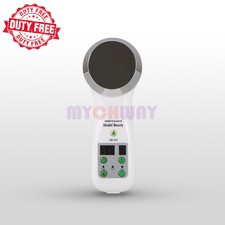 £29.99

Free Postage
So licensed for home use. Licensed not to harm body cells – and not interact with any biochemistry. BY chance I found out ½ a minute to the bottom right of the chest cleared diabetes.
I was in my church heart heath group, and I found it cleared all cancers in 1 minute, and heart disease via ½ a minute to the top left of the chest and to the kidneys.
And now I found ½ a minute cleared type 2 diabetes; later I was to find type 1 cleared in 3 days – or you wanted the full minute.
So the prayers if Dr.s were answered. Using e.g. the 8W 3MHz device they purchased to cure all cancer, they could now cure all heart disease and diabetes. Safe to use, and it either worked or it didn't. And it always works.
So the best medicine for cancers, heart disease and diabetes was High Intensity UltraSound. And they had no choice. The cancer cure was medically published 2002. All Dr.s had to use High Intensity UltraSound to cure cancer – or you got all medical fees back. The practice nurse would cure you in 1 minute.
Or families got $16 million for every biochemically induced death, and the Dr.s got 25 years in high security prison, for every death.
The heart disease cure was medically confirmed and published 2012. Again return all medical fees and pay punitive damages and do 25 years for every patient killed.
I published my work on diabetes 2013: practically confirmed with 33 diabetics. Who all said 'Why aren't Dr.s doing this?'
$16 million for every death. Return all medical fees plus punitive damages. And await trial for the most serious mass cases of 1st degree murder. And of course, all GPs not using High Intensity UltraSound instantly suspended from medicine.
They have to return 16 years of wages, and get no pension. And serve 10,000 life terms for the worst 1st degree murders ever.
So prescribing Dr.s were applying defective, criminal medicine – for their own financial gain. So YOUR GP not a Dr for 16 years.