If we apply 8W 1MHz ultrasound from a massage device, for ½ a minute to each side of the chest, we cure most viral and bacterial infections.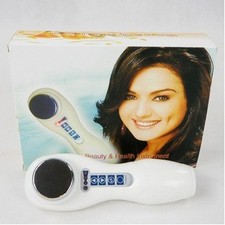 $18.85

or Best Offer

+$5.00 shipping
Otherwise, we want to High Intensity UltraSound the sore area. This stops cancers, heart disease and diabetes. This is 98.5% of Dr and hospital income. Donald Trump needs to ensure medics use the medically proved High Intensity UltraSound, rather than the defective, criminal drugs.
Any Dr who does prescribe drugs, for the last 15 years (for cancer – 5 years heart disease, 4 diabetes) has instantly removed themselves from the medical register. Invalidated their health insurance and made medical practice criminal.
Cancer Is Cured
eBook (ePub):
£2.00
(excl. VAT)
We live in remarkable times. Xi years ago American medics cure to cancer. Using no drugs or surgery. Just a single application of high intensity ultrasound. This book explains how it works! It... More >
Patients get all medical fees back, and the medic pays 10 million and gets 25 years in jail for ever patient they murdered. With defective biochemistry.
1 minute externally will clear all hard-body cancer. ½ a minute to the top left of the chest and kidneys to clear heart disease.
Under 1 minute to the bottom right of the rib cage clears diabetes. Now the GP is ethically forced to discharge you. No discharge drugs are legal.
So cancer is that simple to clear totally at home: no agonising 2 year decline to biochemical death. 10 million for ever cancer death over the last 15 years. AstraZeneca owes 200 trillion – more than the worth of the planet.
A 2 UK pound share, comes with attached debt of 5 million: now is a good time to sell! 15 years ago would have been better.
- French - let me know how I did
Traitement à domicile
Si nous appliquons une ultrason 8W 1MHz à partir d'un appareil de massage, pendant une demi-minute de chaque côté de la poitrine, nous soignons la plupart des infections virales et bactériennes.
http://jonsthings.blogspot.co.uk/2017/11/home-cure.html
Sinon, nous voulons UltraSound Haute Intensité de la zone endolorie. Cela arrête les cancers, les maladies cardiaques et le diabète. Ceci représente 98,5% du revenu du Dr et de l'hôpital. Donald Trump doit s'assurer que les médecins utilisent l'UltraSound Haute Intensité prouvé médicalement, plutôt que les drogues criminelles défectueuses.
Tout Dr qui prescrit des médicaments, pour les 15 dernières années (pour le cancer - 5 ans de maladie cardiaque, 4 diabète) s'est instantanément retiré du registre médical. Invalidé leur assurance maladie et rendu la pratique médicale criminelle.
Les patients obtiennent tous les frais médicaux, et le médecin paie 10 millions et obtient 25 ans de prison pour le patient qu'ils ont assassiné. Avec biochimie défectueuse.
1 minute à l'extérieur permettra d'éliminer tous les cancers du corps dur. Une demi-minute en haut à gauche de la poitrine et des reins pour éliminer les maladies cardiaques.
Moins de 1 minute en bas à droite de la cage thoracique efface le diabète. Maintenant, le GP est éthiquement forcé de vous décharger. Aucun médicament de décharge n'est légal.
Donc, le cancer est aussi simple à effacer à la maison: pas de déclin angoissant de 2 ans à la mort biochimique. 10 millions de décès par cancer au cours des 15 dernières années. AstraZeneca doit 200 trillions - plus que la valeur de la planète.
Une action de 2 livres sterling, vient avec une dette attachée de 5 millions: c'est maintenant un bon moment pour vendre! Il y a 15 ans aurait été mieux.