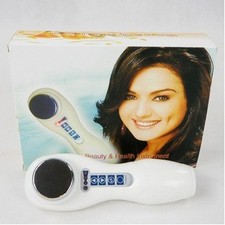 $18.85

or Best Offer

+$5.00 shipping
2002 the Moffitt cancer centre published the use of 1 session of High Intensity UltraSound to totally clear cancers. 15 years later drug companies BRIBE Dr.s to prescribe defective cancer drugs: their prescriptions are not valid, and they are not Dr.s.
2012 medics published the use of High Intensity UltraSound to clear cancer: I use ½ a minute of 8W 1MHz ultrasound to the top left of the chest and kidneys to totally clear heart disease. Using an 8W 1MHz ultrasound massage device as my medically licensed High Intensity UltraSound device – totally harmless to body cells.
Causes the cells causing cancers or heart disease to pop. Confirmed by every Dr on Earth, using their 8W 3MHz ultrasound device.
2013 I confirmed 1 minute of High Intensity UltraSound to the bottom right of the rib cage will clear even type 1 diabetes; type 2 clears in ½ a minute.
High Intensity UltraSound to arthritic joints clears the arthritis. To the lower torso clears IBS. To each side of the chest, I found will clear asthma. So asthma inhalers are defective, criminal medicine.
½ a minute of High Intensity UltraSound to each side of the head clears MS, Alzheimer's, Parkinson's and schizophrenia. Drug companies protest 'we can't clear dementia!'. Well get out of the way, and let good medicine clear dementia. This work was published 2013, and confirmed by every Dr on Earth the same year.
Dr.s owe 10 million for every patient they have murdered using defective biochemistry: medical practice now criminal for struck off Dr.s, like those who have continued to prescribe defective drugs.