2013 I was walking around with an ultrasound massage device – 8W 1MHz is effective High Intensity UltraSound.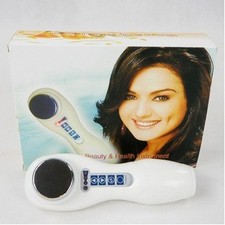 It will clear all 200 cancers out there in under1 minute – stop when you feel warming. I was at the heart health group at St. Clement's, Salford Quays.
Medics had published the use of ½ a minute external High Intensity UltraSound to the top left of the chest and kidneys to totally clear heart disease. All the heart patients got better.
So Salford Royal knows High Intensity UltraSound clears heart disease – and has to use it.
½ a minute of High Intensity UltraSound to the bottom right of the chest clears type 2 diabetes instantly. Type 1 takes 1 minute. I always say do 3 times, but I never see the people again.
Salford Royal know all about my work on diabetes – and the Hippocratic oath demands they stop diabetes drugs, and use their High Intensity UltraSound device. They have an 8W 3MHz ultrasound device in every nursing office.
So can clear all cancers at 1 appointment from 2002. So ALL biochemical costs are returned to the NHS or patient, and the Dr struck off for life.
They return 15 years of wages, and get no pension.
High Intensity UltraSound to an arthritic joint clears arthritis – though this does take 3 sessions. So pain killing drugs or injection defective, criminal medicine. And prescribing Dr struck off from 2013.
I am off to Salford CVS, to work on mental health: ½ a minute of High Intensity UltraSound to each side of the head clears all dementia.