Not treated with drugs! Totally cured by High Intensity UltraSound. Diabetes UK has ignored this published work, as they serve no purpose, and the funding from biochemistry goes. By continuing to promote insulin and Metformin use, they are killing diabetics.
Diabetes USED to be the 8th biggest killer on Earth. The Charity Commission must remove the charitable status of Diabetes UK – which serves no purpose, other than to kill diabetics, and stop them being cured.
That's the way biochemistry works – fund a charity, which does their promotion for free. So they are not really charities – they are shell PR outfits for the drug industry. Better still, you get other people to fund drug promotion.
In 2013 I was walking around with an 8W 1MHz ultrasound massage device – which is the cheapest, medically licensed High Intensity UltraSound device.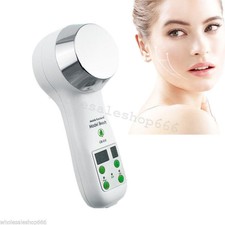 $31.87

or Best Offer
I applied it to the lower right of Phil chest: I told him it might help him, and would do no harm. The viral structure causing type 2 diabetes did Molecular Nuclear Fusion, boiled away and popped – just like the viral rump in cancer. We also get a body wide immune action, to clear secondaries: important for cancers – not diabetes.
I first gave him 10 seconds – 3 days relief from diabetes. The next week I gave him 30 seconds and cured him. This affects his benefits – but it saved his life, and stops him losing limbs and his sight.
I cured 30 people around the world – most bough their own High Intensity UltraSound device. I found out, type 1 takes 3 days to remit, totally and for ever.
So no insulin of Metformin use – no registered Dr is allowed to use defective medicine. And all Dr.s have a medically licensed High Intensity UltraSound device – since they verified High Intensity UltraSound cured all cancers in 2002.
So prescribing cancer drugs strikes off the medic – and gives the patient an agonising 2 years death. 1 minute of High Intensity UltraSound cures all cancers.
That removes 80% of health service economic activity. Hence Dr.s would prefer to prescribe defective drugs, and see their patients die in agony.
These people are NOT Dr.s. They have no health insurance, and no medical registration. Medical practice is criminal. All cancers cured 15 years ago.
Diabetes totally cleared 4 years ago. All the diabetic food and drug companies are desperate – their market has vanished.
And Dr.s have lost their third biggest income stream. High Intensity UltraSound to the top left of the chest and the kidneys clears coronary heart disease – their 2nd biggest earner.
So they have lost 98.5% of their income. No company has EVER continued after losing only 80% of their income.
So all diabetes cured, and once the person has the device, they will cure 1,000 other people. The incurable disease was cured 4 years ago.