Dr.s published 5 years ago, that HIUS to the top left of the chest and kidneys totally clear heart disease. Which is caused by a bacterial structure, blocking heart repair.
A minor effect, is that it boost cholesterol, which raises blood pressure. ½ a minute of High-Intensity UltraSound to each area totally clears the heart disease – as the pressurised bacterial structure does Molecular Nuclear Fusion – and pops.
1 H2Op+US->He+O+E2+X-ray
So ultrasound scans reveal the bacterial structures – as they give off X-rays. I have confirmed that a medically licensed 8W 1MHz ultrasound massage device totally clears heart disease in 1½ minutes.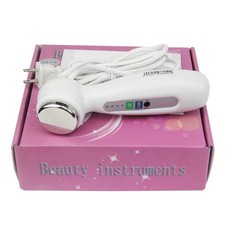 $16.89

or Best Offer

Best medicine. So Statins have been defective, criminal medicine for 5 years. Patients get back the last 5 years heart disease medical costs – and the GP has to clear the heart disease totally – using HIUS.
Families who have lost a family member to heart disease, who was on defective Statins get 10 million UK pounds. And open and shut, non defended court case. The Dr is struck off – and all his medical practice since he prescribed Statins is malpractice.
The AMA and GMC will not defend use of criminal medicine. Drug companies aare not allowed to make and sell defective drugs like Statins. Luckily medics are super ethical. Send this message and your GP will strike themselves off – after sending the appropriate medical costs and punitive damages to you.
2 million per year – 10 million for every patient killed. They will send all their medical notes into the police, for the criminal trial. They will never try to practice medicine ever again.