The exact number is a guess. High-Intensity UltraSound was used by the Moffitt to clear cancer 2002. That year Cambridge and Harvard got a High-Intensity UltraSound rig from the Moffitt, confirmed the work – and carried right on with defective, criminal biochemical treatments, radio and chemo therapy and surgery.
High-Intensity UltraSound causes the inflated cancer cell type to do Molecular Nuclear Fusion
1 H2Op+US->He+O+E2+X-ray Dr.s have no understanding of ultrasound – which used to be my job. I cured autism in 2013 – biochemistry never will.
½ a minute of High-Intensity UltraSound to either side of the head clears MS, Alzheimer's, Parkinson's, Schizophrenia, ADHD, depression and autism. I use a 8W 1MHz ultrasound massage device – medically licensed to be safe to body cells. 180W 40kHz causes deep tissue, body cell burns – as you ask.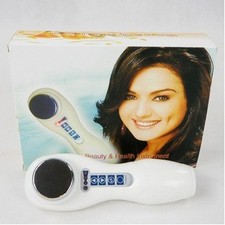 $18.85



or Best Offer

So cancer cells pop – but body cells are not affected. So the immune system removes cancer cells through out the body and brain.
A 1 minute total cure. No 2 year decli9nce to an agonising and expensive biochemical death.
Academic medics are all registered Dr.s. And no registered Dr is allowed to teach or research defective medicine. But for 15 years Cambridge has continued with criminal biochemistry.
So every graduating medical student expelled from medicine for life: they can claim back their tuition fees – and maybe punitive damages for expulsion from their chosen, well paid profession.
Because Cambridge continued with defective biochemical research, other medical schools did. So all their students are also expelled from medicine.
All GPs who have continued with criminal biochemistry, get a fine of 10 million for every patients murdered. And struck off 2002: return all wages, and get no pension.
So since 2002 biochemistry has been used by GPs to murder 8 million Brits. 150 million American friends.
Cambridge and Harvard struck off the medical register 2002.