The major cost to industry of cancer, is is the time lost through sickness – and then the total loss of trained employees. This cost can be totally removed.
We use a 8W 1MHz ultrasound massage unit for 1 minute, to the primary, liver, and ½ a minute to the arm pits and side of the head. Using the trained fist aider in the first aid station in a company.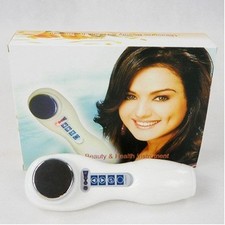 $18.85

or Best Offer
The cancer cells pop – removing the cancer from the body and brain: the pressurised cancer cell does Molecular Nuclear Fusion
1 H2Op+US->He+O+E2
So the cancer cell boils, and is totally cleared. And this was medically proved by the Moffitt cancer centre 15 years ago – but ignored by Dr.s, as it made them no money. But totally cleared cancer.
The company interest is in keeping its trained employees. This is how!
Available for download now