In 2001 I thought up the up of high power ultrasound to treat cancer. 2002 the Moffitt cancer centre published the use of High Intensity UltraSound to toally cure cancer – at one session.
I read about this work only in 2010 – every registered Dr had to read it in 2002. Get a High Intensity UltraSound device, validate and use the new medicine.
As a result every health centre in the world now has a 8W 34MHz ultrasonic massage device – effective High Intensity UltraSound. I use a 8W 1MHz ultrasound massage device – effective in under 1 minute.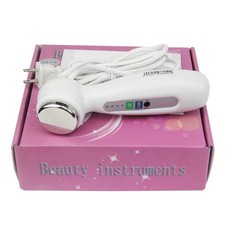 $14.35

or Best Offer
From China
So no cancer medication was legal since 2002. Patients get all medical fees back on cancer for the last 15 yars. And the Dr is struck off. And families get 10 million UK pounds, for every family member killed by the smiling Dr: who knew he was killing.
In 2010 I wrote up a piece on High Intensity UltraSound clearing HIV: validated by an American contact.
So since 2010, all HIV medication has been defective, criminal medicine. Patients get cured with ½ a minute of High Intensity UltraSound to each side of the chest.
They get all their HIV, medical money back. And the Dr is struck off for life. 10 million for every patient death, for the last 7 years. Globally.
So South Africa gets its HIV money back – and all patietns cured. All HIV Dr.s struck off.