Soldiers get injured in blasts and by bullets: this was the same in the first world war – and they had the ultrasound to fix the soldiers.
I use a 8W 1MHz ultrasound massage device. They are licensed for unsupervised home use – a friend may have one.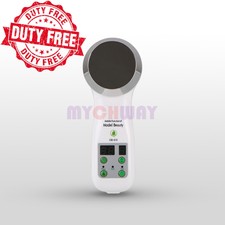 Physiotherapists have used them for 30 years – to fix limb damage. It will clear thalidomide dwarfism – and the limb will grow to normal size – in 3 years. Use the High Intensity Ultrasound for 6 months, every week.
This will even fix head and spinal injuries – I had 30% brain damage in a car accient. I now rite songs, and sing on stage.
The worst side effect, is you may feel, tissue warming. Stop the HIUS. Use for 1 minute at a session.
So for soldiers in hospital, we can fix blast damage. To apply to the eyes, shut the eyelids first. I use 20 sessions on my squint – and it isn't finish yet.
So for the soldiers in Iraq, this is great. 'Cause we can fix them!