they are prohibited by the Hippocratic oath. So all 200 cancers are cured by external application of High Intensity UltraSound. So drug companies are desperate the get rid of them.
They financially induced Dr.s to prescribe drugs as cancer prevention. Sorry, no medical trials have ever been done here – it is unethical and illegal: striking the Dr off – he must return all wages since he first acted in a criminal fashion.
All biochemical treatments, radio and chemo therapy and surgery are unethical – illegal. You can sue the health centre for return of all medical fees here. Non contested, open and shut case.
I use a 8W 1MHz ultrasonic massage device, as my medically licensed HIUS source. Safe for home use.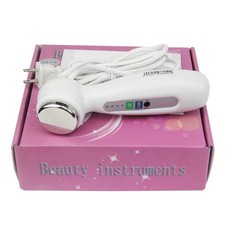 From China

2012 medics published the use of HIUS to the top left of the chest and kidneys to clear developed heart disease.
There were no medical trials on Statins preventing heart disease, and their prescription is unethical and illegal. Again patients can claim back all such defective medical expenses.
~All registered Dr.s have promised top remove themselves from the medical register is they use defective medicine: Statin prescription is such defective medicine.
HIUS to ½ a minute to each side of the head clears MS, Alzheimer's, Parkinson's and Schizophrenia. So no Dr could research biochemistry and these cured diseases for 4 years.
They could not even supervise trials of pre-existing drugs – the drug companies tried everything at random. Not legal and ethical: again, the Dr.s MUST strike themselves off, have invalidated their health insurance, and can never practice medicine ever again.
So HIUS totally cured mental health problems 4 years ago. All patients killed by the Dr, incur a fine of 10 million, and 25 years in jail.
Preventative medicine is only legal will full medical trials. So biochemistry never could cure Alzheimer's – so any preventative pills are just a total illegal waste of money.
So off list prescriptions are illegal – and the patient gets all monies back – plus punitive damages.My nursing friend is a retired nursing manager, who was still prescribe preventative Statins. He will be having words with his GP.