Women tend to have a 8W 1MHz ultrasound massage device available in their circle of friends. We want power in Watts x Frequency in Mhz>5). 150 W 40kHz also works.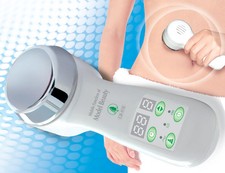 $49.88

or Best Offer
Apply to the top left of the chest and kidneys just once, no raised blood pressure or heart disease. It is caused by an inflated bacterial structure, medically proved 2012 to be cleared using High Intensity UltraSound. Biochemical treatments for the diseases of age are defective, criminal medicine.
Striking the GP off – and (s)he then faces medical charges. This is why the NHS is esting everybody over 59 for diabetes, as last yar it cost the NHS 1.1 billion. But this years everybody is giving HIUS to the b ottom right of the chest, and clearing diabetes: type 1 takes 3 days to remit – type 2 instant.
Every GP has a 8W 3MHZ ultrasound device – so can clear disabetes at one 20 econd session. Insulin is defective medicine.
And no Dr can dispense defective medicine. HIUS for ½ a minute to each side of the chest clears asthma totally – inhalers are defective medicine.