Before entering Medical Service every registered Dr. takes the Hippocratic oath. Promising to be aware of, validate and use new medicine. Or ceased to be a registered Dr. and never do medical practice again.
2002 3 medical professors at the Moffitt published 100 patient double blind trial on high intensity ultrasound clearing prostate cancer. It works for all 200 cancers out there. As confirmed by every Dr. on earth.
As the pressurise cancer cells do molecular nuclear fusion. Body cells are not affected.
1
H2O+P+US->He+O+E2+X-ray the cells boil and pop
Doctors can't pleaded ignorance. Or they were struck off June 2002. All subsequent medical practice being criminal. This is the source of the X-rays emitted by cancer cells in ultrasound scans. There is no biochemical source of X rays.
Ultrasound—Cancer Cure: Cheap Home Cure to All Cancers
Prints in 3-5 business days
Ultrasound—Cancer Cure explores a perspective and revolutionary new treatment for cancer: high-intensity ultrasound, a noninvasive but promising new treatment that is being studied as a way to treat all cancers and could even cure in just one application. Author Dr. Jon Thomason shares research from the Moffitt Cancer Center, which pioneered research into this application of ultrasound, and he explains both how ultrasound works and how, more importantly, it can be used to as a treatment for cancer. Chemotherapy and surgery are not the only options for patients suffering from cancer. Ultrasound is a promising new alternative that could offer a noninvasive treatment without the debilitating side-effects of radiation and surgery.
2012 other medics published a 20 patient double blind trial, on HIUS to the top left to the chest and both kidneys, clearing coronary heart disease.
It causes the bacterial structure, left behind from all four bacterial infection, to do MNf: as a game bacteria are pressurised in order to grow. Body cells bud off intact stem cells, so are never pressurised.
2013 I confirmed HIUS to the bottom of the chest clears diabetes. Type 2, 1 minute. Type two clears in ½ minute. Published freely on the Internet to be downloaded and confirmed by every Dr. on earth.
2012 a contact in America confirmed that ½ minute of HIUS to each side the chest, clears A to totally. I use an 8 W 1 MHz ultrasound massage device as my medically licensed HIUS source.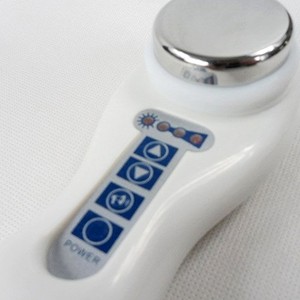 View details
In only 10-15 minutes daily, you`ll see and experience dynamic changes in your face: your skin will appear more youthful, smooth and healthy with this intense form of care. Ultrasound Beauty Massagers...
2013 I also confirmed HIUS clears asthma, IBS, arthritis and also MS, Alzheimer's, Parkinson's and the previous year I had done the schizophrenia.
All MS medicine confirmed by every Dr. on earth. Who is then prohibited from prescribing drug treatments. Those that did struck off to face criminal charges.
25 years in jail and at 10,000,000 UK pounds fine for every patient medicated to death. Cancer drugs have been criminal medicine for 16 years. Each and every prescribing Dr. struck off. Subsequent medical practice criminal.
The three medical professors retired 2010. But every registered Dr. On earth confirmed HIUS cleared cancer June 2002. Research, prescription or teaching or cancer drugs criminal ever since.
Any Dr. Who is taught defective biochemical treatments for cancer, or chemo and radio therapies, never a registered Dr..
They call thing here, is ideal need to give references. The Moffitt cancer centre is a world renown cancer hospital. Deletion of the Medical Paper on HIUS, this the instant deletion of every Dr. at the Moffitt from Medical Service.
Every registered Dr. Had already confirmed HIUS. And was well aware they cancer drugs were no defective and criminal medicine.
I've published my AIDs work 2012. Again red and confirmed by every Dr. on earth. Who were then all legally prohibited from prescribing aids medication.
Those that did struck off. Same legal sanctions as above. No research, teaching or prescription of HIV medication. Patience get return or AIDs medical fees. For the last six years.
In the UK 2016 there were 660,000 HIV patients. Of which 202,000 were not registered: how would anybody know? At this stage the total AIDs cure had been out an verified for four years.
Amino acid blockers were defective and criminal medicine. They took six months, and and £2,500 to cure HIV. So any medic who have prescribed them, six months there contravene the Hippocratic oath.
Which does not allow medicating the well. In any case they should have used HIUS. Totally cures AIDs in 1 minute. For no charge. As the Dr. already had the required HIUS Equipment. Since they validated the cancer cure.
Metformin an insulin prescriptions have been criminal medicine for five years. Patients get return of all medical fees. With punitive damages up to 10,000,000 - for each patient death. And diabetes is the eight biggest killer on earth.