High Intensity UltraSound.
In 2002 the Moffitt cancer centre published the use of High Intensity UltraSound to totally clear cancer – the year after I suggested high powered ultrasound was a novel cancer treatment, to my medical friends.
They shared it around – hence the Moffitt work. In 2010 I took a break from my singing, and read the paper by the Moffitt. I did the obvious – I finished writing my book. Had been writing it over the previous 8 years.
2010 the 3 medical professors retired in disgust – as other medics would not use the life changing science.
The Hippocratic oath demands every medic is aware of, verifies and then uses new medicine – abandoning old, now defective and criminal medicine.
So every medic bought an 8W 3Mhz ultrasound and confirmed High Intensity UltraSound cured all 200 cancers out there. Applied to each side of the chest for ½ a minute, I confirmed with a contact in New York High Intensity UltraSound clears HIV. I should really have called in and seen him when I was in NY.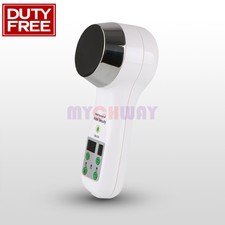 £23.99

+ £5.99 postage
So the Moffitt had the cured to all cancers 16 years ago, but even the Dr.s there, and all around the world kept using criminal 20th century cancer ideas.
Biochemical treatments, chemo and radio therapy plus surgery all criminal. All surgeons confirmed external application of High Intensity UltraSound cured 100% of cancers.
But carried on with defective cancer surgery. They are registered Dr.s, and all Dr.s post 2002 ;lost health registration and insurance if they did not use High Intensity UltraSound.
Hence the problem with the National Health Service and elective surgery. All surgeons who have ever dome cancer surgery, no longer registered Dr.s. Surgery criminal.
All prescribing Dr.s also struck off. Hence the sudden global lack of registered Dr.s. Every Dr within the National Health Service struck off 16 years ago.
They have to repay all wages, get no pension and have no health insurance. They owe 10 million UK pounds for every death their prescriptions have caused.
So their prescriptions illegal for 16 years. No pharmacist could fill them, and no nurse could help give them. Nurses are legal banned from helping with defective medical practices – like cancer drugs.
Since 2010, 200 million people have got better from cancer – due to ultrasound use. My book publisher is giving me a print run – buy a copy, and let me earn some money out of this idea. Dr.s got $3,000 for every patient they killed with biochemistry. They have killed 300 million in that time.
Ultrasound - cancer cure
Paperback:
List Price:

£8.72
£7.41
(excl. VAT)
|
You Save: 15%
Prints in 3-5 business days
Highly intensity ultrasound 150 W 40 kHz applied externally just once will cure all the diseases of age!
Each and every Dr and surgeon is now banned from medicine for ever. Facing $16 million fines, and 25 years in high security prison for every patient they murdered.
So YOUR GP not a registered Dr for 16 years. Medical practice criminal. Copy this message to them.
The medics just retire to gold plated pensions, they have no legal right to.