2013, and I am helping run a church Hearth Health group. I am using an 8W 1MHz ultrasound massage device as a High Intensity UltraSound source.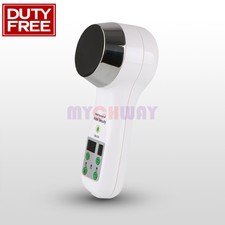 Since American doctors at the Moffitt used High Intensity UltraSound to clear cancer 2002. Every Dr on Earth bought an 8W 3MHz ultrasound device – to confirm the work. It clears all 200 cancers out there -as the ultrasound does Molecular Nuclear Fusion in the pressurised cancer cells.
Not to have confirmed the work – struck off 16 years ago. Medical practice criminal.
1 H2O+P+US->He+O+E2+X-ray My PhD area was Nuclear Fusion
So I cured 6 people of heart disease – apply the High Intensity UltraSound to the top left of the chest and kidneys – ½ a minute each area. No pills potions – and after 1½ minute no heart disease.
3 people came in with Alzheimer's, MS, Parkinson's and Schizophrenia. ½ a minute to each side of the head cleared the diseases/
I published my results on the Internet. Confirmed by every Dr on Earth – who was no longer allowed to prescribe drugs or surgery. Or they are struck off, losing health insurance. Medical practice then criminal.
So note: Alzheimer's totally cured 5 years ago. No Dr could any more research biochemical treatments for the CURED disease.
The next week somebody came in with late stage, inoperable liver cancer: as hard as it gets. 1 minute of High Intensity UltraSound externally to the liver. The pain lifted. The disease gone.
So all people with late stage cancer, totally cured using High Intensity UltraSound. And every GP has the device – and has not been allowed to prescribe, drugs , radio therapy or surgery for 16 years. Or struck off for life.
No health insurance – medical practice criminal. So it is likely YOUR GP not a registered Dr. Their prescription invalid. Medical practice criminal.
Terminal cancer – not even hard! No drugs, or cannabis oil. No biochemical research work legal for 16 years.