In 2002 the Moffitt cancer centre used High Intensity UltraSound to totally cure caner art 1 session. I have found 1 minute of High Intensity UltraSound to a cancer blows it away: the pressurised cells do Molecular Nuclear Fusion
1 H2O+P+US->He+O+E2+X-ray
So in the last 15 years cancer Dr.s have over seen the totally preventable, agonising deaths of 1/8 of the developed world. Cancer drugs have been criminal medicine for 16 years.
The last year parents took a girl with cancer to the US. There the medics used High Intensity UltraSound, and she came back totally cured.
High Intensity UltraSound is 100% effective – but applied at home from a 30 pound ultrasound massage device. Medically licensed for safe home use – blow your cancer away – no hospital or Dr.
So the Christie sued – in protest at somebody going to America and being cured. They lost. So they invested 10,000 of High Intensity Focused Ultrasound equipment – manned by 2 staff: the last thing you want with cancer is a focused cure. High Intensity UltraSound is less focused – and more effective.
And requires no Dr or hospital. The Christie has continued to prescribe cancer drugs – a 2 year decent to hellish death: such obvious defective medicine. And no Dr is allowed to use defective medicine – without that day striking themselves off. And we are 16 years after the CURE to all cancers was medically published.
So nurses can wield an 8W 1MHz ultrasound device – and cue all cancers. No Dr has been legally allowed to prescribe cancer drugs for 16 years: In which time they have killed 1/8th of the developed world for their own profit. All Dr.s have deliberately killed over 10,000 patients.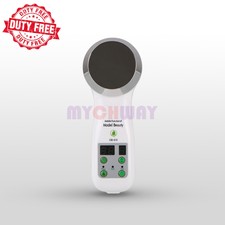 £28.49

Free Postage
So YOUR GP not a Dr for 16 years. Medical practice criminal. No drug company has been allowed to make and sell cancer drugs for 15 years: or permanently excluded from health systems.
Open and shut case for 1
st
degree murder of cancer patietns: 10 million pound fine and 25 years in jail for each involved Dr. Who is so struck off.