So patients can claim back or surgical cost for defective prostate cancer. With punitive damages for spurious organ removal.
And families can claim back $16 million for every family member killed: and prostate cancer is below 50% effective.
The same argument applies to specialist cancer hospitals like the Christie or Nuffield, who use defective cancer drugs or surgery to kill half the paying patients.
8W 1MHz from an ultrasound massage device for 1 minute, totally clears prostate cancer – and you keep the organ.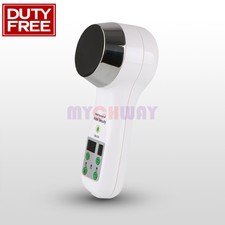 £23.99

+ £5.99 postage
These devices are not robust – I am about to buy my 4th device in 5 years. But they cost less that 1 Dr appointment – without a prescription.
So High Intensity UltraSound totally cures all cancers, heart disease, diabetes and infection – for 50cents a time! And the device should work for a whole family, and group of friends.
HIUIS for up to 1 minute clears all diabetes – stop when you feel warming. ½ a minute to the top left of the chest and both kidneys clears heart disease.
½ a minute to each side of the chest, throat and nose clears all infections – included HIV and Zita. So no need for a Dr or hospital – cure yourself at home.
No 2 years biochemical decline to death: each death warrants a $16 million payout, and each member of the medical team gets 25 years in high security prison.
So these devices are not robust. They only need to work once, and they have more than paid back. Dec 2017, 1/3
rd
of diabetics are now being CURED due to High Intensity UltraSound, at home or using the Dr.s 8W 3MHz ultrasound device.
Legally he has to use, to cure all cancers, diabetes and heart disease. Oh, and mental health problems like MS and Alzheimer's: ½ a minute externally to each side of the head.