High Intensity UltraSound was medically proven to cure ALL cancers in 1 minute 2002. No registered Dr is allowed to prescribe 20th century cancer ideas. No pain or incontinence. I use an 8W 1MHz ultrasound massage device – as my medically licensed High Intensity UltraSound device – a beauty instrument.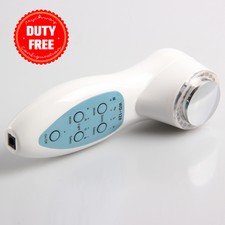 $23.50

or Best Offer

+$6.00 shipping
So no biochemical hell – no morphine prescription to ease the pain – and speed death.
½ a minute of High Intensity UltraSound to each side of the head clears mental health diseases – so no MS, Alzheimer's, Parkinson's or Schizophrenia.
1 minute to the lower right of the chest clears all diabetes: type 2 only takes ½ a minute. No diabetic complications and hop for an early death.
½ a minute to the top left of the chest and kidneys totally clears heart disease. High Intensity UltraSound clears arthritis – in 3 sessions. Asthma in ½ a minute to each side of the chest. That also clears HIV and Zita.
Ultrasound - cancer cure
Paperback:
List Price:

£8.72
£7.41
(excl. VAT)
|
You Save: 15%
Prints in 3-5 business days
Highly intensity ultrasound 150 W 40 kHz applied externally just once will cure all the diseases of age!
So no 1 way trip to Switzerland: struck off Dr.s around the world can't write out valid prescriptions. Nurses can't help with fatal medicine without themselves being struck off.
Any organ damage can be repaired by 20 1 minute session externally to the organ. This also rep[airs the brain – or closed eyes. No more squints.
Cancer is the main reason people wish to die – now totally curable at 1 application. $50 rather than a 1 way trip to Exit in Switzerland to die.
No high doses of morphine to speed death. Which after all, no Dr or nurse can assist with. Now no need for assisted murder. My first wife was a nurse, and saw patients 'helped' to die.
My second wife tried suicide 4 times. And finally died in a self started house fire – the month before I proved High Intensity UltraSound cleared her MS.