Dad was on Statins, and one of the documented side effects is magnesium deficiency. So your GP was probably aware of this as a problem – and tested his blood when he presented with energy lack – and effect of magnesium lack.
Did you never wonder why Dad suddenly got this rare problem: it was virtually unknown, until GPs started giving people Statins?
The statistical analysis is in, Statins add 4 days to the life expectancy of heart patients. Quite possibly the most useless medicine ever. The side effects are a lot more serious.
I gave Stuart High Intensity UltraSound- ½ a minute to the top left of the chest, and his kidneys,, and his heart disease vanished. Statins do not do that – they kill! 8W 1MHz is HIUS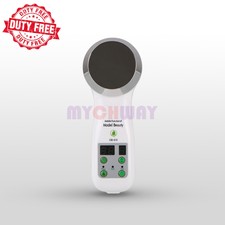 £28.49

Free Postage
My experience is that 1 minute of High Intensity UltraSound totally clears diabetes – medications never forced diabetes into remission.
Type 2 is medically documented to clear under strict diet control – they knew that 20 years ago.
If GPs had given out diet sheet, no diabetes meds were ever required.