In 2002 the Moffitt used High Intensity UltraSound to totally clear cancer at 1 appointment. But the drug companies paid Dr.s royalties on drug prescriptions – so GP carried on prescribing defective medicine.
The commission was ended 2012 – after I cured a layer of his liver cancer. But GPs have carreid on killing – for the 300 UK pounds they get for repeat appointment to prescribe poisons – which give a horrible death in 2 years.
But all over the world Dr.s bought an 8W 3MHz ultrasound device – to confirm the work. They are legally obliged to use High Intensity UltraSound.
Or they are struck off – lose health insurance, and by now have a 4 billion pound fine, and face up to 1 million years in jail: continued medical practice is criminal.
So if you have a foreign doctor, he is likely killing you for 300 UK pounds. High Intensity UltraSound also clears diabetes and heart disease – see my other posts.
1 minute of an 8W 1MHz ultrasound device, will totally clear cancers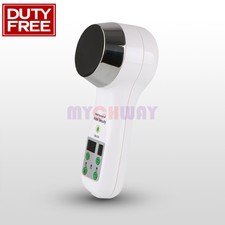 £23.99

+ £5.99 postage