Using a High Intensity UltraSound device. I use an 8W 1MHz ultrasound massage device.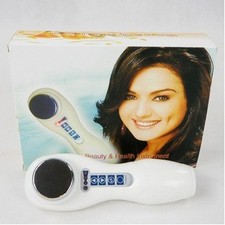 I actually got it to relieve pain – these devices are medically verified for home use. To clear persistent pain. It just happens the High Intensity UltraSound causes the pressurised cancer cells to pop: and all cancers are pressurised in order to grow.
You clear the pain for al l200 cancers out there – and clear the cancer. No drug required – and your GP has to fully discharge you next appointment - as medics are not allowed to medicate the well.
High Intensity UltraSound to each side of the head clears all dementia – again I was just trying to clean pain in MS, Alzheimer's, Parkinson's and schizophrenia – and clear the disease.
Ultrasound cures cancer...
Paperback:
£6.51
(excl. VAT)
Prints in 3-5 business days
High intensity ultrasound will clear all the diseases of age! Saving 22,000,000 lives a year on earth
It turns out dementia is trivial to clear.