Dr.s have to be aware of, validate and THEN use new medicine: adandoniung old, defective now criminal medicine. I have been on about this for 7 years.
2002 the Moffitt used High Intensity UltraSound to clear cancer. It works for all 200 cancers out there – as their non native inflated cell structure does Molecular Nuclear Fusion.
1 H2O+P+US->He+O+E2+X-ray
So 5W 40kHz ultrasound causes all cancers to give off X-rays. High Intensity UltraSound (e.g. 8W 1MHz) ultrasound causes cancer cells to pop – causing the immune system to remove that cell type through out the body and brain .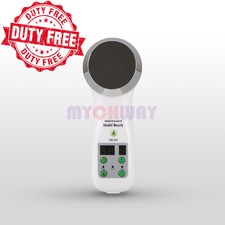 An ultrasound massage device will clear all cancers. Biochemistry, radio therapy and surgery all globally prohibited for 15 years. And every Dr on Earth knew this.
To continue prescribing cancer drugs CRIMINAL. The Dr struck off: loses all health insurance, Medical practice then criminal.
Your GP struck off 15 years ago. All their prescription ILLEGAL. You get all medical fees back for 15 years – with punitive damages. Up to 10 million for a patient death.
The people we trusted most, killing us for their own financial gain: and worst of all, owning the device to clear all cancers. An 8W 3MHz ultrasound massage device in every nursing office in the world – as a GP proudly told me 2012.
½ a billion patients killed for profit – a 500 trillion fine. ¼ of a millennia jail time. Your GP owes a fine of 10 billion. And is prohibited for life from practising medicine.
Hospitals employ struck off Dr.s, to dispense expensive poisons, to kill 1/3 of people. Now 80% of cancers are being cured by High Intensity UltraSound – and not by the Dr. So 1/15 of us now dies from cancer.
And each GP owes a fine of 10 billion – to the families of people who died from cancer. Cancer drugs have been CRIMINAL for 15 years.
Forward this to your GP, they need telling they have not been registered Dr.s for 15 years – just PAID KILLERS. To teach cancer drugs, also criminal – invalidating a student's Hippocratic oath.
All medical students fro the last 15 years, never Dr.s.. They get all tuition fees back – plus punitive damages. And barring from medicine for life.