2002 the Moffitt cancer centre used High Intensity UltraSound to clear the viral rump causing cancer: a virus altered cell dividing to the limit.
Diabetes is caused by a viral rump too – dividing less aggressively. But still over-inflated, to grow in a viral fashion – body cells never divide and grow.
So I had an 8W 1MHz ultrasound unit – which was a commercially sourced, medically licensed High Intensity UltraSound source.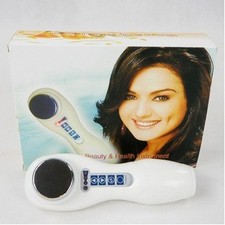 My friend had type 2 diabetes, and I applied it to the lower right of the rib cage for ½ a minute. And cleared his diabetes. Salford Royal keep changing his medication – as they can't accept his diabetes is cleared. He is walking around red faced, with normal blood sugar levels.
Medics are not allowed to medicate the well. Any Tony is well, so all his medical team are no longer Dr.s. At Salford Royal diabetic unit.
I found out Type 1 has a slightly different pathology, and takes 3 days to remit, totally and for ever. Medics are livid! After High Intensity UltraSound was shown to clear all cancers and heart disease diabetes is their big earner. But now cured.
And every Dr on Earth has to validate and use the new medicine. They already have an *W 3MHz – which clears all cancers in under 1 minute. They bought off the regulator, so they can continue to prescribe cancer drugs – and see their patients die in biochemical agony within 2 years: 15 years after ALL cancer were cured.
Prescribing Dr.s are struck off – dangerous killers. 10 million for every death, and 25 years in jail.
High Intensity UltraSound to the top left of the chest and kidneys clears coronary heart disease. Medically published 2012, personally confirmed 2013.
I also used High Intensity UltraSound to clear MS, Alzheimer's, Parkinson's, Schizophrenia and depression. Published on the internet – confirmed by all Dr.s. That's right: ALZHEIMER'S TOTALLY CURED IN 1 MINUTE.
So families get all medical fees back, and 10 million for every patient killed. The Dr dies in prison. Medical practice now uninsured and criminal.