2002 High-Intensity UltraSound was medically proved to clear cancers at 1 session. I use 8W 1MHz ultrasound for under 1 minute – stop when you feel warming.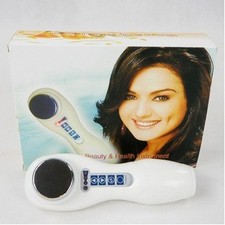 $18.85

or Best Offer
So all Dr.s read about and evaluated High-Intensity UltraSound – as their Hippocratic oath demands. But they then had to sue it – or be stuck off and lose health insurance. All medical practice then illegal for life.
No 1 used it! So every prescribing medic ceased to be a Dr 15 years ago. They must get the hell out of health, pay back 15 years of salaries. And get no pension. Then stand criminal trial for 10,000 murders. Open and shut case – guilty. 4 millennia in jail each.
So the General Medical Council/AMA etc., cease to give them legal support. Every biochemical prescription cumulative 1st degree murder.
Ask that the practice nurse uses the health centre High-Intensity UltraSound device to clear your cancers. Then hand your notes over to a lawyer.
10 million UK pounds for every patient killed, and 25 years in jail for each member of the medical team: money paid to the family – YOU.