No Dr, could research or prescribe defective biochemistry for 15 years: or no longer a Dr, every day's practice medical malpractice. Every death 10 million fine, and 25 years in jail.
The Moffitt showed that 1 application of High-Intensity UltraSound causes inflated viral and cancer cell to fragment. They are inflated, in order to induce body cells to divide and grow. Regular body ells bud off the local intact stem cells.
They do Molecular Nuclear Fusion
1 H2O+US->He+O+E2+X-ray
This is the source of the X-rays from ultrasound scans. External application of High-Intensity UltraSound causes the cell to experience cell content boiling and pop. Which causes eh immune system to clear this new cell type from the body.
I use a 8W 1MHz ultrasound massage device. 1 minute will clear all cancers. ½ a minute to each side of the chest clears HIV – do 3 times to be safe.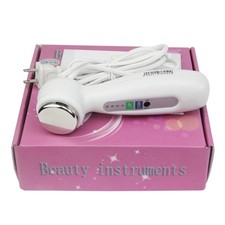 $16.89

or Best Offer

No vaccine. No biochemistry. Total cure costing 0.0002 cents.