Dr.s have to be aware of, and use best medicine – or they cease to be Dr.s, and lose insurance – making continued medical practice malpractice. The biggest court cases out there.
Biochemical drug firms employ Dr.s as researchers – so know all about new medicine – and must top making defective medicine the same day – or that is the idea.
2002 the Moffitt cancer centre cured cancer using HIUS: drug firms found out it worked for all cancers. All Dr.s squired a 8W 3MHz ultrasound device – they used to cure cancers of their friends and family.
Not a friend? You got biochemical prescriptions – cumulative 1st degree murder. The AMA/GMC etc. should have ensured that Dr.s use the new medicine – but they were made up of Dr.s, and biochemistry made them too much money.
So for the last 15 years High-Intensity UltraSound cured all cancers – but Dr.s have used biochemistry to kill ½ a billion patients for money. Included your GP – who would demand you forward this message.
I use 1 minute of 8W 1MHz ultrasound, from a medically licensed ultrasound massage device.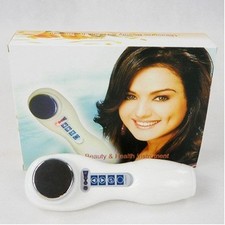 Medics used High-Intensity UltraSound for ½ a minute to the top left of the chest and kidneys, to totally clear heart disease – Statins defective, criminal medicine 5 years ago. Demand you health centre uses the 8W 3MHz device to clear you heart disease. This killed 1 in 4 of the human population 2012 – when the disease was cured. So you get ALL you medical fees back, your heart disease cured, and your medical team all struck off.
2013 I used High-Intensity UltraSound to cure all mental health problems: MS, Alzheimer's, Parkinson's Schizophrenia, ADHD... No Dr was any more allowed to research defective biochemical treatments for these cured conditions. So all authors of medical papers struck off. Having returned all salary since they ceased to be Dr.s.
Medical practice then illegal.
2013 I also proved High-Intensity UltraSound cleared diabetes – ½ a minute to the bottom right of the chest: type 1 remits only after 3 days. Following ½ a minute of High-Intensity UltraSound.
So all those biochemical companies expelled from medicine – going back 15 years. Each of the deaths warrants a fine of 10 million UK pounds, against the uninsured Dr: the fine goes up to the health centre, national bank and IMF.
Nurses who have forced defective biochemical treatments on patients, guilty of criminal assault. Struck off Dr.s can not longer practice medicine – and their prescriptions are not valid.
Pharmacists can't fill them legally. No cancer drugs for 15 years.