patient killed in the last 4 years, using defective biochemistry, or surgery. In 2013 I used High-Intensity UltraSound to clear 3 lady friends of breast cancer.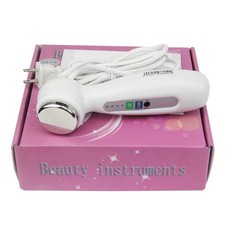 $16.89

or Best Offer
From China
One went into surgery at the Christie – and they sowed her up as they found no cancer.
All breast cancer surgeons for the last 4 years struck off. High-Intensity UltraSound was medically showed to clear all cancers 15 years ago, as it set off Molecular Nuclear Fusion in the pressurised cancer cells.
1 H2Op+US->He+O+E2+X-ray
So the primary cancer cells pop, so the immune system makes and actions the human antibody, to clear the cancer cell type through out the body.
For the last 15 years biochemical research has also been criminal – striking off the medic. Who gets 25 years in jail, and a 10 million pound UK fine for every patient killed – by defective medicine.
So ALL cancer surgery also criminal – the lawyers will sort out the appropriate jail times and fine. So for 15 years ALL biochemical research has been illegal medicine – all papers and patents must be shredded. ALL biochemical firms illegal for 15 years – excluded from medicine for ever.
I use 8W 1MHz ultrasound – effective in ½ a minute to each breast. So no lawyer required – each Dr has promised to strike themselves off for life. Their health insurance is void, and medical practice malpractice.
The fines truly horrendous! 10 million per avoidable death, amount to 10 billion.
So all breast biochemistry ILLEGAL.