High Intensity UltraSound clears all bacteria – which must have an over inflated nature, to induce the B cells of the immune system to copy their genome – mistaking them for useul organisms.
HIUS sets off Molecular Nuclear Fusion in the pressurised cell – clearing bacterial cell types. They are given a cell wall, as naked bacterial genome is automatically cleared.
1 H2Op+US->He+O+E2+X-ray
So this tells us why bacterial c ell type give off X-rays in scans. In response to ½ a minute of external 8W 1MHz ultrasound, the bacteria are cleared. Cheapest from an ultrasonic massage device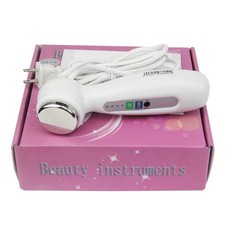 From China

So they found a wide spectrum antibiotic would clear the bacterial structure causing stomach ulcers. So HIUS would have done it. So they had loads of Beta blockers going to waste – they restrict bacterial replication.
Now stomach ulcers are caused by a bacterial structure on the stomach wall. But heart disease is caused by a bacterial structure on the coronary arteries on the fatty sheaths around the kidneys. Which both show up on ultrasound scans.
So ½ a minute of HIUS to each area will clear the bacterial structure. I did this to my nurse friend 3 years ago: he was having 1 heart attack every 6 months – he was due to be dead 2 years ago.
Now he has sub-normal blood pressures. And his medic is prescribing Beta blockers. If Salford Royal Heart people did a scan, they would find no bacterial structure – the disease is gone.
As medically published and validated by every Dr 2012: so no heart medication has been legal since. Heart disease was cured 4 years ago.
But Dr.s are still prescribing, and killing patients through defective, unnecessary medicine. Stop it – their Hippocratic oath prohibits such behaviour.
External HIUS cures all cancers – so cancer medication is defective, criminal medicine. And all prescribing Dr.s were struck off 15 years ago – invalidating their insurance or pension.