By 2013 there was no biochemical treatment for mental health problems. In that year I applied ½ a minute of High Intensity UltraSound to each side of the head, and cleared Alzheimer's, Parkinson's, MS, depression amd Schizophrenia,
The Hippocratic oath barred any use, research or teaching of biochemistry for these diseases. And medic who did, invlidated their medical insurance, and had to leave medicine immediately: they did not. There has been a sudden wash of medics taking early retirement, before they were struck off. But their pensions are now void.
And they await criminal trial. HIUS totally clears mental health. Defective medics should be in prison, not working in health systems.
The cheapest medically licensed HIUS device is a 8W 1MHz ultrasonic massage device: so mental health is now totally mended.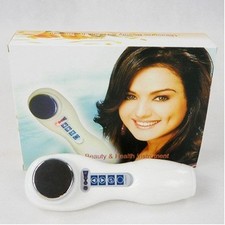 And no biochemical research is ethical or legal. Any company making and selling defective biochemical treatm,ents for mental health problems, expelled from medicine for ever.
Ultrasound cures cancer...
Paperback:
$10.40
(excl. GST)
Prints in 3-5 business days
High intensity ultrasound will clear all the diseases of age! Saving 22,000,000 lives a year on earth