I use up to 1 minute of 8W 1MHz ultrasound, from a massage device. This clears all 200 cancers out there: for soft-body cancer, we want 1 minute to the lungs.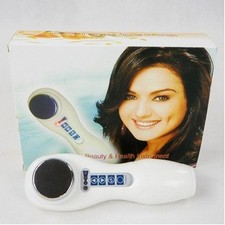 This idea was medically published in 2002 – making exploratory surgery unethical and all cancer surgeons dangerous criminals – and yet the surgery goes on.
In the theatre, as they find cancer tumours, they should inject them with either heat shock protein, or Botox: there are loads of nurses trained in the later.
HIUS ultrasound, as above, makes the cells at the edge of the cancer boil away, and fragment – as we do Molecular Nuclear Fusion.
1 H2Op+US ->He+O+E2+X-ray nobody has ever argued with this science. It is why ultrasound scans cause cancers to give off X-rays.
Botox will also act as a potent danger signal, and cause the clustering dendrites to make IL-2&4, leading to the secretion and actioning of the human antibody to cancer.
The immune system eats the distinct cancer cell through out the body – the cancer is cured. Surgery is still defective, criminal medicine - and has been so for 15 years.
Now we make it 100% effective – it is only 50% effective today.