In that year I took a 8W 1MHz ultrasound massage unit to my church health group. It is a medically licensed High Intensity UltraSound device.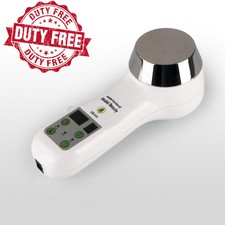 $37.89

or Best Offer
Cheaper device on Ebay - from China.
American medics proved 202, such a device cured all cancers – so biochemical treatments etc. became defective, criminal medicine.
Any GP whop uses defective medicine strike themselves off – to face criminal trial: A fine of 10 million, and 25 years in jail for every patient killed.
2013 I validated HIUS to the bottom right of the chest cleared diabetes: type 1 with a 3 day in remitting, totally and for ever. No GP allowed to prescribe diabetic drugs for the last 4 years. If you GP has, he ain't no medic. He has no health insurance, and is barred from medicine for life.
I found out ½ a minute of HIUS to each side of the head cleared MS, Alzheimer's, Parkinson's, Schizophrenia, depression and ADHD.
So no Dr is allowed to research biochemistry for these conditions. So today they were reporting that a constant diet of mushrooms contained Alzheimer's. HIUS totally clears it – with no medic.
HIUS also clears IBS, and applied to each side of the chest, clears both viral and bacterial infections. You will feel ill after 4 hours, better after 8. Cold remedies lead to more cancer and the ret – very bad idea.
By the way, you don't need to see a medic to buy mushrooms.