The idea of 'Soylent Green' was you lived to age 30, on this miracle food 'Soylent Green'. Then you all went for a ride on the carousel, and were turned into Soylent Green.
In 2002 the Moffitt cancer centre used High Intensity UltraSound to clear cancer. The cancer cells did Molecular Nuclear Fusion in re ponce to e.g. 8W 1MHz ultrasound from a massage device: and by now every Dr on Earth has read my work.
You can buy such a device from Amazon, or Ebay.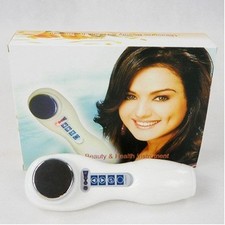 Dr.s published the use of HIUS to the top left of the chest and kidneys to totally clear heart disease. 2013 I proved HIUS to the bottom right of the chest clears diabetes: type 1 takes 3 days to remit, totally and for ever.
I also cleared MS, Alzheimer's, Parkinson's and Schizophrenia. So mental heatlh medication became defective medicine – criminal.
So between 2002 and 2016, all prescribing Dr.s fully realised they were killing. When HIUS would have saved ALL their patients from a horrible death. They were applying defective, fatal, criminal medicine for money.
Surely the least ethical professional behaviour ever. And they killed your family or friends – or are they killing you? Buy your own HIUS device and live. Report the GP to the AMA/GMC etc..
This sort of behaviour invalidates their health insurance. They have killed 12,000 patients. The first killing lands them with a fine of 10 million. So just 2 will bankrupt the Dr, who will be on criminal trial at the Old Bailey, or Supreme Court.
Every day's medicine is medical malpractice. So the Health Centre has to bar their entry – and faces 50 billion of fines for their actions.
The drug companies up to 14 trillion – for Astra Zeneca. So we don't need the trip over to Florida. We can buy our own device – or use the 8W 3MHz device in every nursing office in the world.
All Health Centres are now devoid of Dr.s, and bankrupt. Their health insurance is now also invalid. No insurance – no medicine. Dr.s were not ethically covered for 14 years.
Is we apply the HIUS device to both sides of the chest, throat and nose, we cure all infections. We feel ill at hour 4, better at hour 8. Use it at 10pm if you must be in work tomorrow. No more 'sickies' – all illness AND cancers are cured.
Cancer Is Cured
We live in remarkable times. Xi years ago American medics cure to cancer. Using no drugs or surgery. Just a single application of high intensity ultrasound. This book explains how it works! It also cures heart disease and diabetes,