The Hippocratic oath requires every Dr to know of, verify and apply best medicine. So 2002 they all knew that High Intensity Ultrasound, as described by the Moffitt cancer centre, cured ALL cancers.
The pressurised cancer cells experience Molecular Nuclear Fusion
1 H2Op+US->He+O+E2+X-ray
This the source of the X-rays from scans – there is no chemical source – we are doing nuclear fusion. The hearts of all animals do this, as they beat. Even at -10oC. Growing plants and bacterial also do Molecular Nuclear Fusion. Hence they excrete He and O.
CO2 plant food, O2 is plant waste. So nature limits free global cO2 to 2 parts per million. Levels are higher above the ice caps, and in a natural ice age.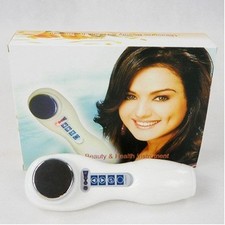 So in 2002 every GP verified HIUS cured all cancers. The cheapest medically licensed source is a 8W 1MHz ultrasonic massage device.
Ultrasound - cancer cure
Prints in 3-5 business days
Highly intensity ultrasound 150 W 40 kHz applied externally just once will cure all the diseases of age!
Ebay sells one for 18 UK pounds. Applied to the chest, throat and nose for 30 seconds, this clears all viral and bacterial infections. ABCAM should take a blood sample, and get at the 5 common antibodies to both bacterial and viral infections. 1 course of these pills will cure all infections – stopping cancers, heart disease and diabetes.
Since 2002 no registered Dr has been allowed to research biochemistry (and the rest) and cancer. Or they ceased to be Dr.s – and must return all wages since they were struck off. And face criminal trial fro years of medical malpractice – as their health insurance was instantly voided, as they used defective medicine.
The lawyers have an organ book, of the damages owing the patient, or family of the deceased. 10 million for every death – which could so easily be prevented. So no cancer surgery for 14 years.
1 HIUS device can cure the infections for 10 people, for 3 years – then we will want a new device. The prescriptions will have cost 240 UK pounds. So pills are unethical medicine – for 14 years.
ABCAM at Cambridge has been doing defective research since it was hived off the university. All the Dr.s there now struck off. They offered me a 6 month work placement – I would be the only scientist there.