In 2002 the Moffitt cancer centre published the use of High Intensity UltraSound to clear cancers – but they are not the best source of HIUS. A 8 W 1 MHz ultrasonic massage device from Amazon or Ebay will clear all cancers in under 1 minute.
Stop when you feel warming. For all viruses, included HIV and soft-body cancers, plus bacterial infections apply the HIUS to the chest.
For infections we was ½ a minute of HIUS to each side of the chest, throat and nose. No trip to the GP – no prescription. The HIUS device will last 3 years, and clear all cancers and infections for family members and friends.
It will stop the formation of heart disease. HIUS for ½ a minute to the top left of the chest and the kidneys will totally clear heart disease, for ever. Medically confirmed by ever GP 2012. So prescribing pills is defective medicine and criminal.
In fact, prescribing any biochemistry invalidates the doctors insurance and medical registration. They then have to leave medicine for life – all practising GPs today. All hospital Dr.s. The only Dr.s still allowed to practice medicine are those that adopted HIUS in 2002 – who don't exist.
No pharmacist is allowed to fill the prescriptions of doctors who have been struck off. So no biochemical prescriptions can be filled today.
HIUS to the bottom right of the chest for a minimum of ½ a minute only once, clears all diabetes: type 1 take 3 days to remit. No biochemical treatments are ethically allowed.
So every Dr on Earth has promised to delete themselves from the medical register if they apply defective medicine. And all biochemical treatments are. Not 1 doctor has deleted themselves, they just retired.
Ultrasound - cancer cure
Prints in 3-5 business days
Highly intensity ultrasound 150 W 40 kHz applied externally just once will cure all the diseases of age!
With all the wages since 2002 that must be returned – as their medical registration was revoked. Along with their insurance – which means they can't dispense medicine ever again.
The AMA and GMC will not defend criminal medicine. But must strike off all the medics who have dispensed defective medicine since 2002 – them all.
HIUS to each side of the head will clear mental health problems – MS, Alzheimer's, Parkinson's, ADHD, depression, Schizophrenia – are you listening Ashworth? All biochemical treatments for mental health problems are defective, criminal medicine.
So no health centre has any registetred Dr.s. All former medics must bwe refused entry. To allow them to dispense medicine is a criminal act.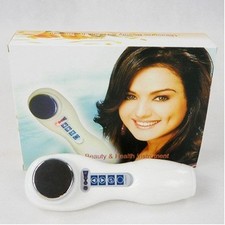 I have used 2 of these devices - successfully.