I actually did this for myself 3 years ago, but went to bed, and forgot about I! Then I was watching TV, and somebody had put his back out. I though, they should use High Intensity UltraSound, like physiotherapists use to clear limb damage.
And I thought 'how do I confirm it?' - I hadn't had back trouble since I used my ultrasonic massage device on my back. Eureka! It is a medically licensed HIUS device.
So for $50 you can fix you back – for less tan the price of seeing a back Dr once! The cheapest source is Amazon or Ebay. I used a 2 minute ultrasound session, before I went to bed.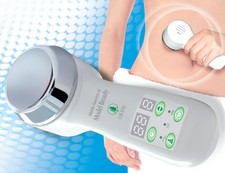 $49.88

or Best Offer