I happened to have a 8 W 1 MHz ultrasound massage device around. I found it helped with my 30 year old head injury: a car accident left me with 30% brain damage.
The High Intensity UltraSound gradually removed the defective cells – and the brain stem cells then replaced them with new, eigenfunction cells.
It takes about 30 sessions of 1 minute, to fix traumatic head and spinal injuries – included strokes. I use a commercially sourced device.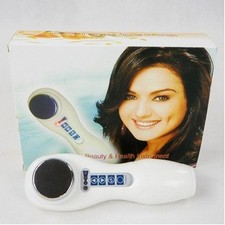 I had tooth ache, so I applied it for 1 minute twice, to the affected area – no more toothache. The bacteria has to be pressurised in order to induce the B cells to copy its genome.
HIUS causes the pressurised cells to explode – which sets up an immune action against that family of bacteria.
So no drill, or dental work.
I also used it to regrow two teeth, the dentist had extracted. HIUS removes the redundant blood vessels, and the body the regrows the tooth – just like in sharks.
So no need ever t visit the dentist, for a device that cost under 40 UK pounds.